Homemade MeatLoaf Southern-Style
Ingredients:
1 pound ground beef
1 cup of oats
1 large egg
1/2 cup of fine cut onions
1/2 cup of bell peppers
2 cups of Ketchup

Directions:

1. Preheat the oven to 350 degrees F.

2. Mix the ground beef,egg, onions, peppers and oats together.

3. Put into a loaf shape a 13 X 9 X 2 loaf pan is a good size.

4. Combine the rest of the ingredients and spoon onto the
top of the meatloaf.

5. Bake uncovered, for about an hour. When done, take the
meatloaf out of the pan and place on a serving plate.
Let stand for before slicing



Creamy Mashed Potatoes
Ingredients:
4 pounds potatoes, peeled and cut into quarters
salt and pepper
Directions:
1. Put the potatoes into a large pot, add 1 Tablespoons salt & a pinch of pepper, and cover with cold water.
2. Bring to a boil over medium-high heat and cook until the potatoes are tender, about 30 minutes.
4. Mash the potatoes well with a potato masher until smooth the way you like them.
5. Season with salt and pepper to taste. Mix well

Mashed potatoes with meatloaf is a tasty southern meal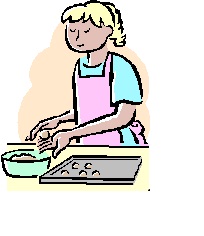 This is old fashioned butter milk biscuits, just like grandma's
Ingredients:
2 cups of White lilly flour
3/4 cups of buttermilk
1/2 stick of butter

Directions:
1. Use cold butter and cut cold butter into small pea size pieces
2. Drop into the flour, blend the flour and pea sizes together
3. After thougly mixed to where the flour is crumbly, then slowly mix in milk
4. Kneed into dough
5. On a floured board/mat drop dough and roll out to 1" thick cut in desired shape
6. Bake in 400 degree for 6 minute
7. When baked slightly brush with butter to taste